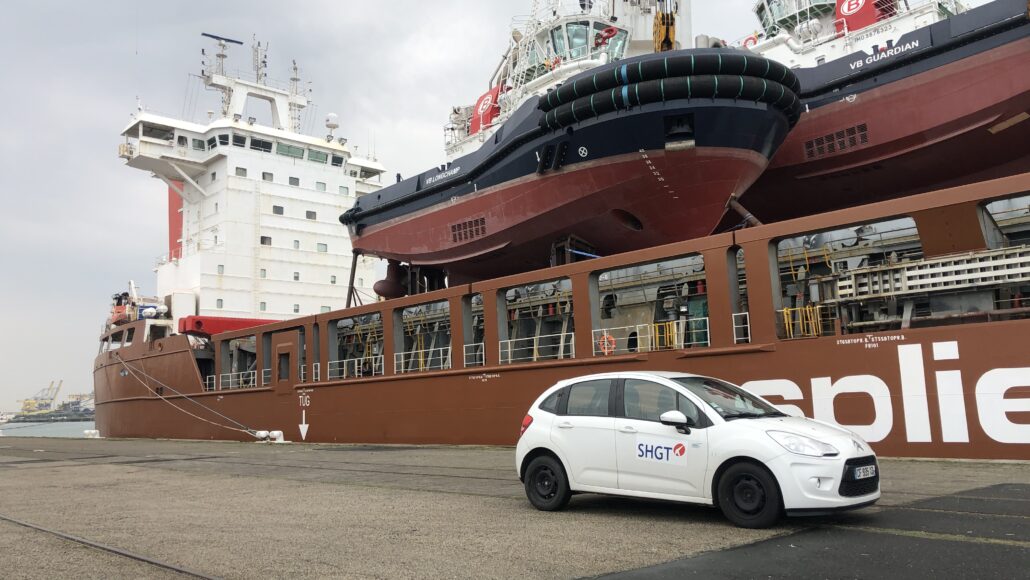 Heavy lifts : BOLUDA Le Havre takes possession of two new tugboats
At the end of April, Boluda received in Le Havre its last two tugboats of a series of twelve identical, ordered from Piriou Vietnam. A delicate operation successfully carried out thanks to the quality of the port tool and the expertise of the players.

Boluda Le Havre has just taken possession of two new tugboats. The VB Guardian and VB Longchamp were transported to the Porte Océane on April 24 by the owner Spliethoff on the heavy cargo ship Pauwgracht.
"The SHGT operated all of the extremely delicate handling operations requiring expertise and specific know-how."
Franck PARETTE, Director of the SHGT, welcomed this extraordinary operation which enabled the teams to "demonstrate the technical qualities, the versatility, up to the driving of the on-board cranes".
Baptiste MAURAND, Managing Director of HAROPA Port of Le Havre, said he was delighted "to welcome these two new tugboats to the Port of Le Havre which will contribute to the quality of service rendered to shipowners". "Beyond that, this operation testifies to the expertise of Le Havre port community in terms of exceptional packages and industrial projects," he added.
Out of the Vietnamese shipyards of Piriou, they are the last in a series of 12 identical units ordered in 2018 to allow the renewal and strengthening of Boluda's capacities in the ports of Le Havre, Nantes Saint-Nazaire, Dunkirk and Reunion.
The first two units, the VB Concorde and VB Mirage, have been operating in Saint-Nazaire since August 2019 and Marseille welcomed the VB Surprise and VB Achéron in November 2019.
This series is an evolution of their six elders of type OST 30, the VB Hurricane, Cyclone, Tempest, Typhoon, Tornado and Volcano. 30.3 meters long and 10.4 meters wide, with a draft of 5.3 meters, they are made entirely of steel. Equipped with ASD (Azimutal Stern Drive) propulsion with two rear azimuth thrusters, they are equipped with two Caterpillar diesel engines with a power of 2,245 kW each, compared to 1,945 kW. The gain in traction capacity at the fixed point exceeds 70 tonnes, which allows Boluda to continue adapting to the increase in the size of ships and liners.
"Armed by six sailors, the tugboats are equipped with FiFi 1 to help fight ship fires. They have a sea winch and a hump winch for deep sea towing, as well as a double drum front winch with Escort function. "
The VB Guardian and VB Longchamp delivered to Le Havre will enter service in early June and will replace the VB La Hève which should join Saint-Nazaire and the VB Tornade which will leave for Dunkirk.
Press release SHGT – GPMH 07.05.2020 / Mer et Marine 27.04.2020