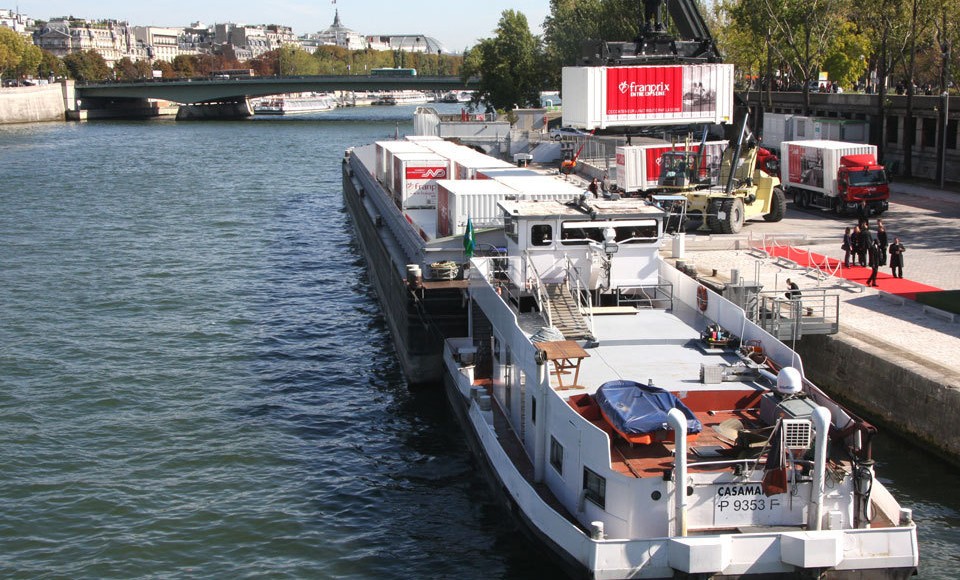 Frederic Cuvillier sponsors the operation « Franprix takes to the Seine »
« The operation « Franprix takes to the Seine » was unveiled in March, was finally inaugurated on Monday 1 October 2012 in Paris in presence of the Minister for Transport, Frédéric Cuvillier, and several local politicians. It is an innovative logistics solution that combines inland waterways and road, the first in the food retail sector.
Franprix a subsidiary of the Casino Group, delivers since August 27 in partnership with Norbert Dentressangle (logistics), Scat (inland waterway carrier), Terminaux de Seine (stevedore), Ports of Paris and French Waterways, 80 of its 350 stores in Paris by combining inland waterways and road transportation.
Every day, this multimodal system transports 26 containers from Chennevières-sur-Marne (94) (which are in accordance with the Piek noise standard), which are subsequently loaded with dry food products, beverages and home products. At the port of Bonneuil-sur-Marne, they are loaded by Paris Terminal SA on a barge for river transfer on the Marne and the Seine rivers. Four hours later, Terminaux de Seine transports them on Euro 5 trucks in the port of La Bourdonnais in the 7th district of Paris. These trucks (also in accordance with Piek noise standard) ensure the final transfer within a radius of 4 kilometers from the port to shops in 7 districts. After completion of delivery, empty boxes return for a new round the next day.
Room for improvement
To achieve this result, Ports de Paris invested €o1.6 million in the port of La Bourdonnais co-funded by local authorities and Europe. For its part, French Waterways manages the opening of locks on transit schedules with limitations, at the latest at 8 pm from Monday to Saturday and 7 pm on Sunday. Three exceedences are allowed per month! alNew negotiations can be overtaken based on the increase in traffic and following the transfer of people from the state navigation service to French Waterways within 1 January 2013," says Marc Papinutti, general director of inland waterway infrastructures management. Currently, the barge has a capacity of 48 containers and the Casino Group plans to increase the number of Parisian shops using this mode of transport.
For a start 450 pallets of goods and 26 containers are transported per trip
Eventually, optimal barge loads will help to save, every year 450,000 km in road journeys, 3,874 truck journeys and 37% of CO2 emissions. »
Érick Demangeon
Wednesday 3rd October 2012